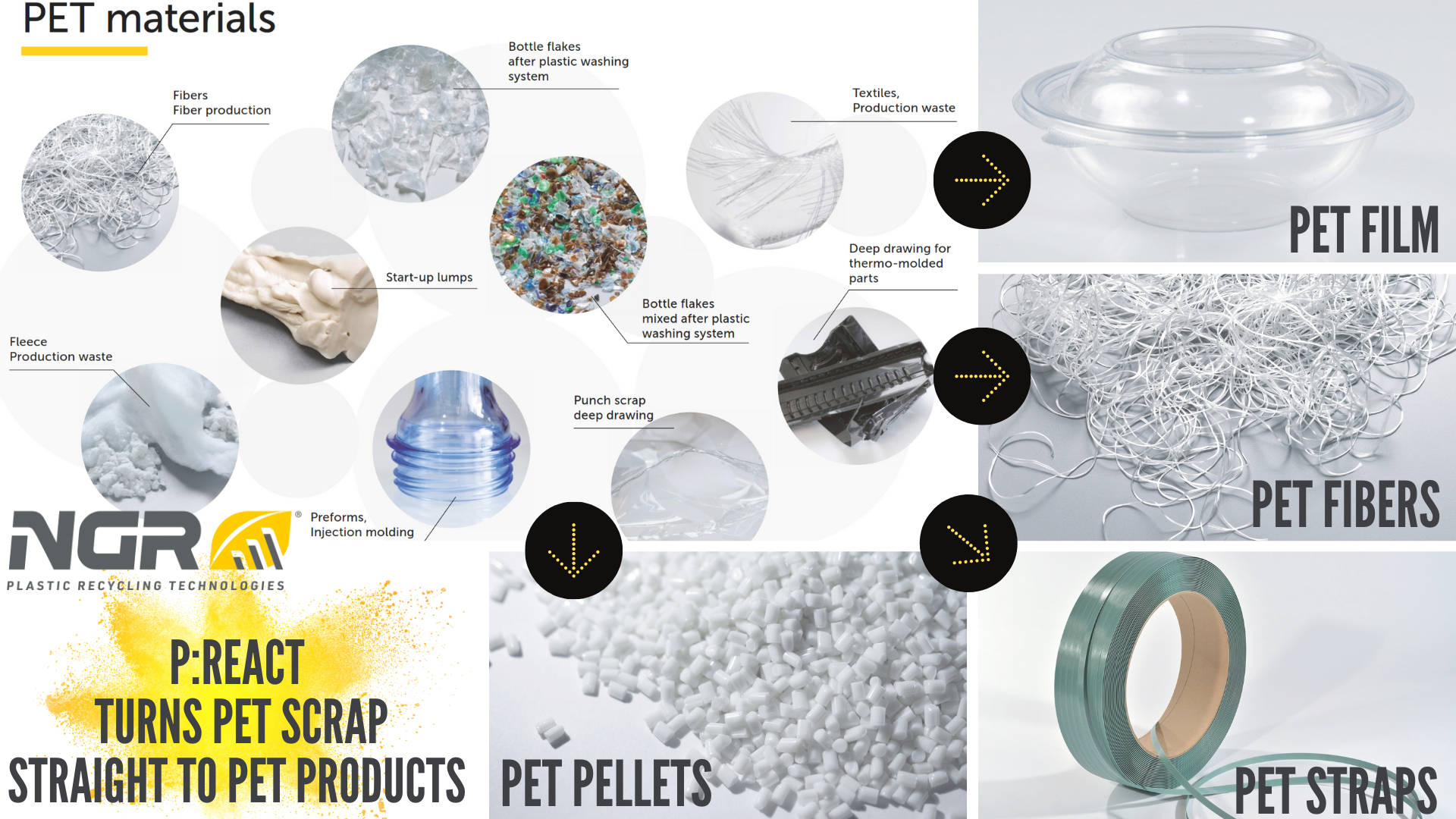 Bottle to Bottle recycling and PET fiber recycling are well known applications proving the excellent recyclability of PET. But what about PET sheet recycling?
A big challenge in PET sheet recycling is the material composition, as a PET sheet often consists of a PET/PE or G-PET structure.  Conventional Polycondensation Equipment CANNOT upcycle this product.
Next Generation Recycling (NGR) developed a revolutionary system called the P:REACT and the Liquid State Polycondensation (LSP), which uses PET's inherent tendency to condense under vacuum in the melt phase. This condensation results in an extremely quick increase in the iV value.  The vacuum decontaminates the material by removing harmful chemicals.  This ensures that the material can be used downstream for 100% food-safe applications approved by the FDA and EFSA.
What kind of PET  materials can the NGR P:REACT recycle? 
An extremely wide range of PET materials and material shapes are fed into the system. Materials including bottle flakes, punch scrap or even PET fibers are all equally suitable.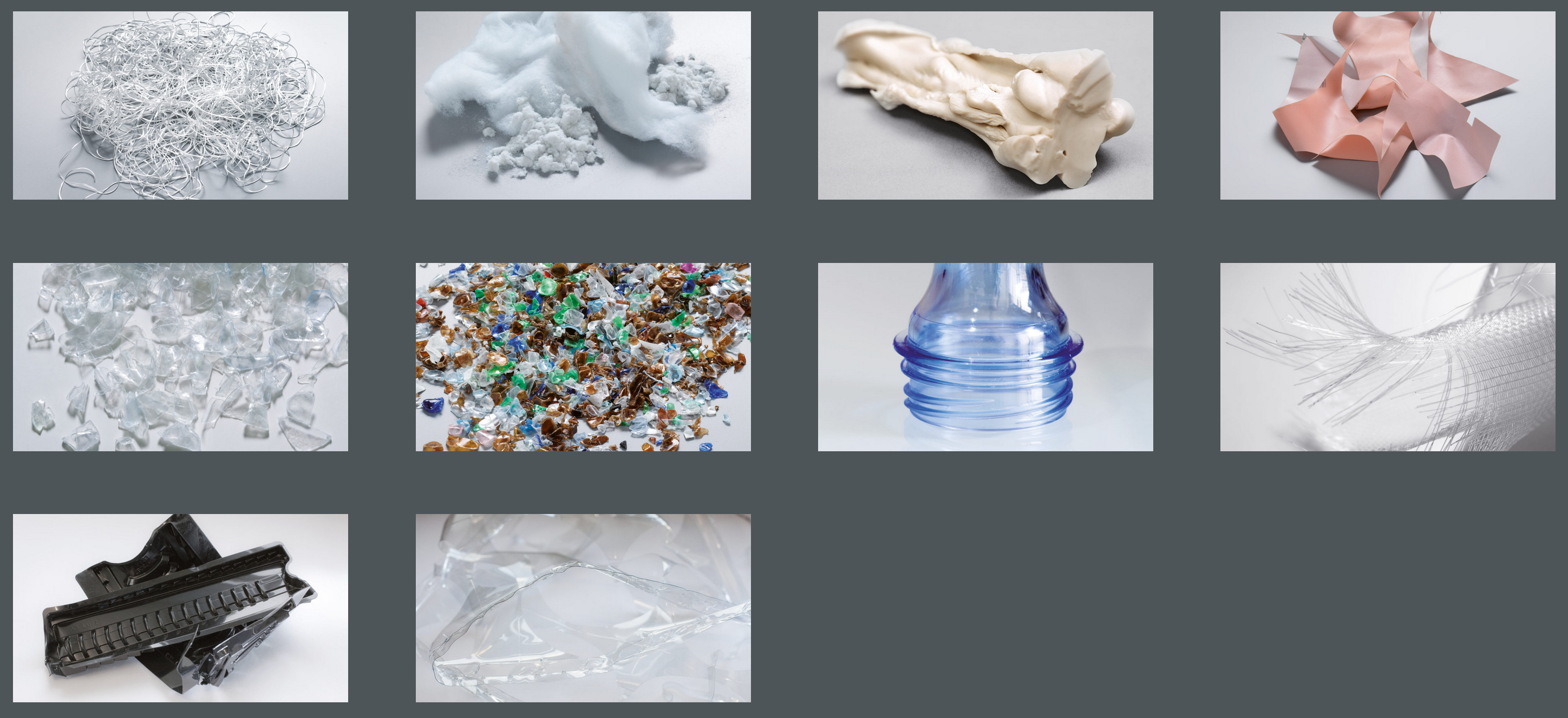 PET fibers, fiber spinning
PET nonwoven, post industrial scrap
Purges
PET film, automotive airbag
PET bottle flakes, post washing line
PET bottles mixed color flakes, post washing line
PET preforms, injection molding and blow molding
PET wovens, post industrial scrap
PET trays, thermoforming
PET skeleton, thermoforming
NGR's LSP method offsets fluctuations in mixture ratios of the fed materials, opening the door for flexible cost structuring depending on material availability.
How Does The Process Flow Work for the P:REACT?

Feeding the Material
Conveyor belt with metal detector
Efficient size reduction with a shredder (optional depending on material)
Extruder to melt or plasticize the material
Venting to remove volatile components in the melt flow
Filtration screen changer or melt filter
Melt pump
Gate
High-efficiency vacuum container (melt reactor) to remove contamination raise iV levels
Horizontal drum for perfect homogenization
Discharge of decontaminated substances
Melt discharge pump
Filtration
Ongoing viscosity measurement
Transfer into downstream production
What Options Are Available For The Downstream Production?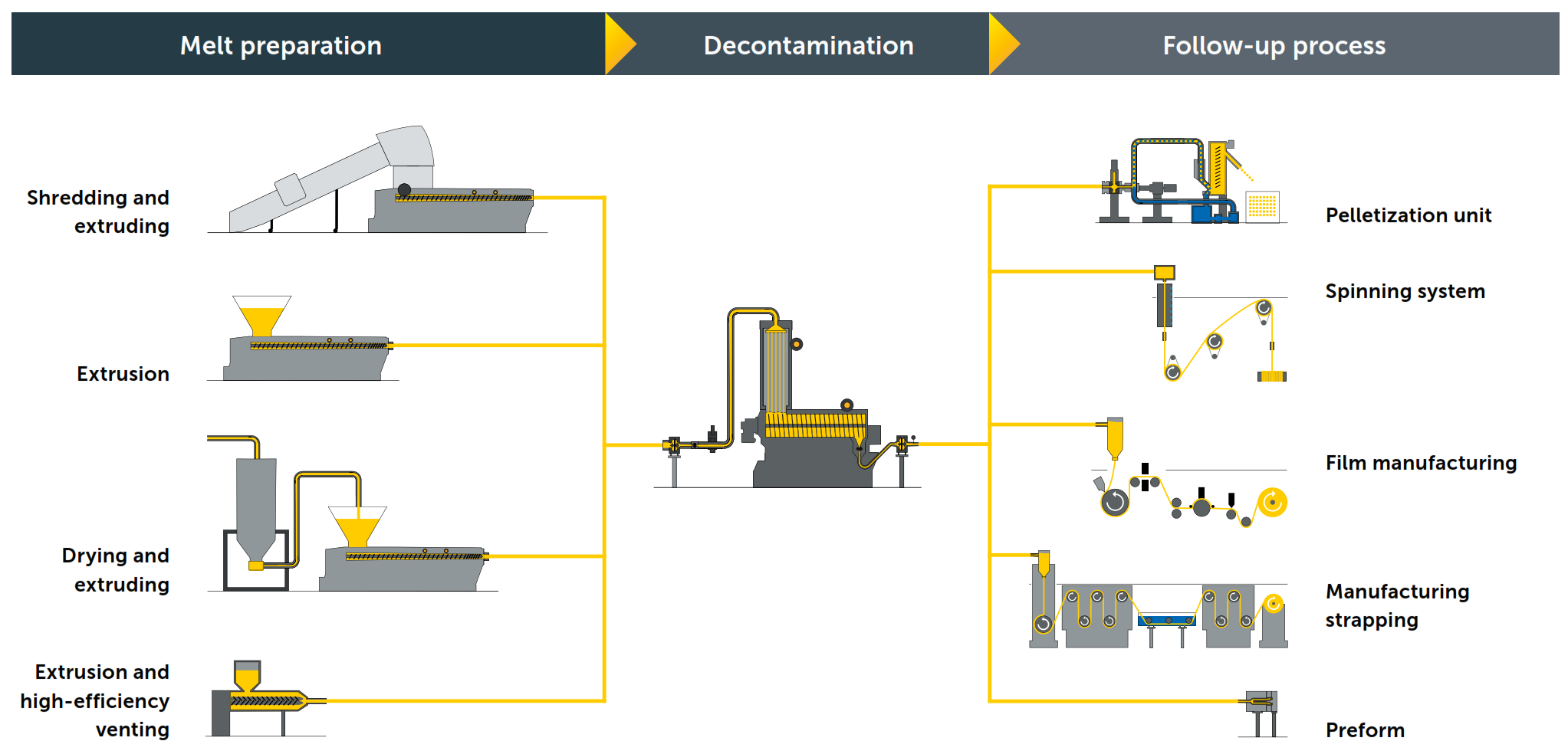 As the reactor treats the material in the liquid phase, the result out of it is an iV upgraded, iV stabilized and decontaminated PET melt, ready to be used in different downstream technologies:
A. PET Film Production to produce clam shell containers.
B. PET Fibers for textile
C. PET Straps
D. rPellets with the amazing benefits to produce consistent high quality pellets despite varied post-consumer waste.  High quality rPET will command higher sell price.
This full turn key closed loop system will reduce production cost, time, and even virgin PET material makes it a win-win solution to meet strict plastic recycling initiatives.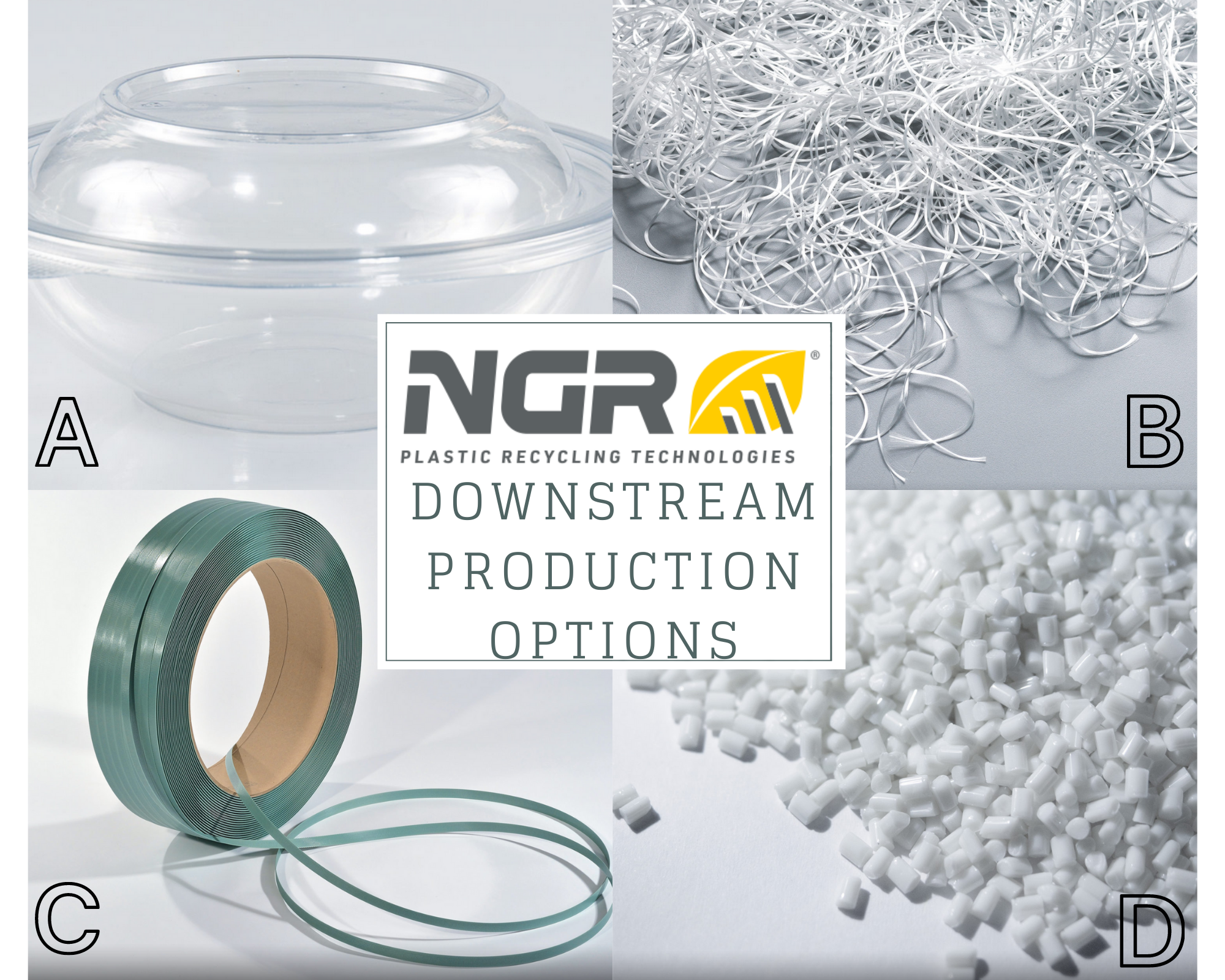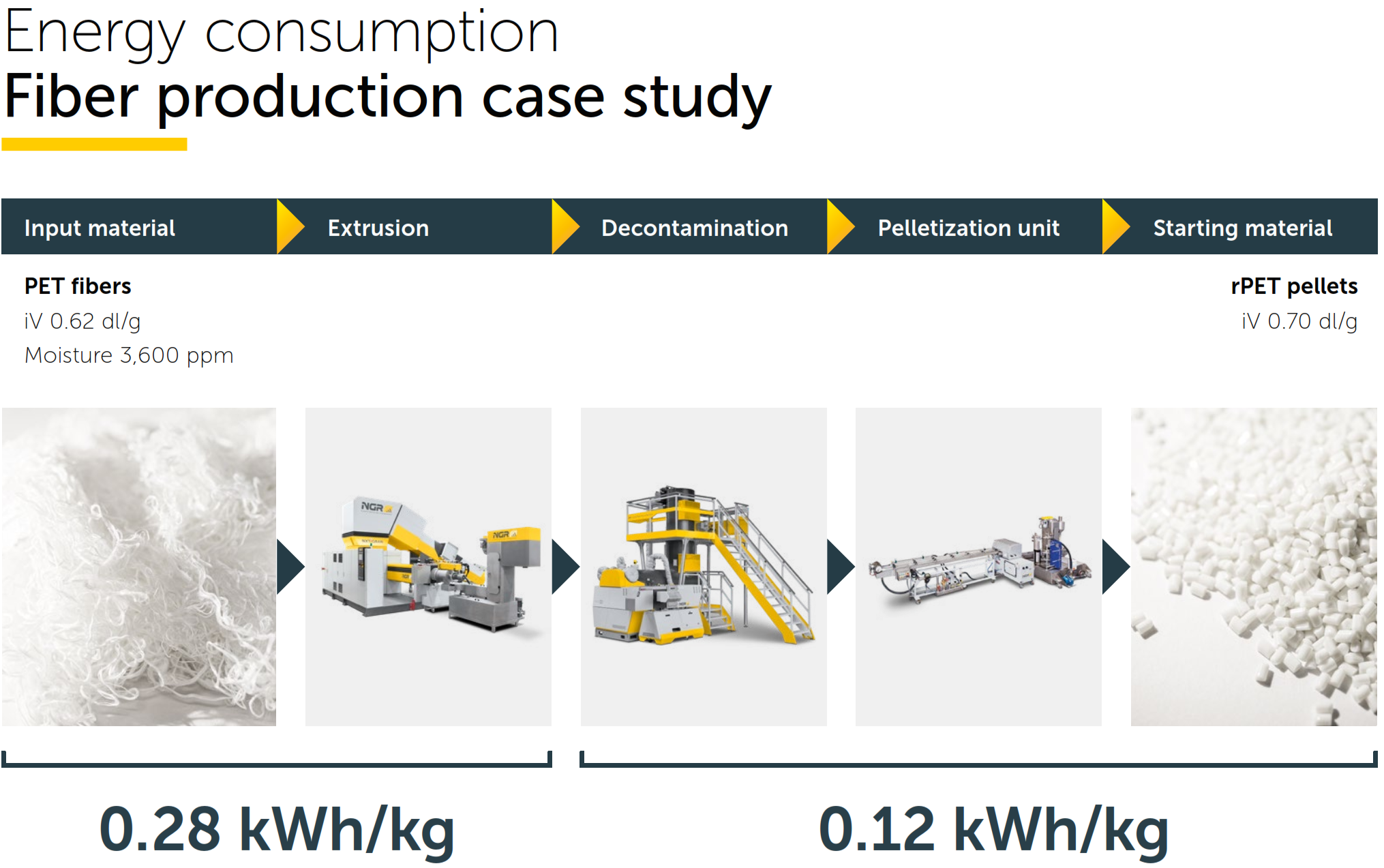 Summary
Approved by FDA and EFSA for 100 % food safety.  LSP takes care of the contaminants in the melt phase, delivering a degree of rPET purity that is significantly higher than the current standards for food grade specified by EFSA and FDA.
Take PET recycling at the highest level, raises and controlling IV values with pinpoint accuracy

Melt phase eliminates issues with dust with PET bottle flake material.
Full flexibility of infeed input material to flexibility to create several different downstream production options.
Continuous process stability that takes a few minutes, not hours to transform contaminated PET to high-quality rPET.
Extremely low residence time inside the reactor equates to superb energy efficiency.
Output rate up to 2,200 kg/h (4,840 lbs/h) depending on type

NGR P:REACT makes it possible to revolutionize the PET recycling process. It transforms PET waste and PET bottle flakes into food-grade recycled PET in minutes.  The P:REACT continues it's innovation with LSP technology to push PET recycling to a new dimensional boundaries that no other competitors can match.
If you have any questions regarding NGR or any plastic process equipment, please contact any of the Hirate America team members to provide a solution tailored to your requirements.