ECON has been THE underwater pelletizing specialist for over 20 years so "PELLETIZING IS IN OUR DNA." Request a quote.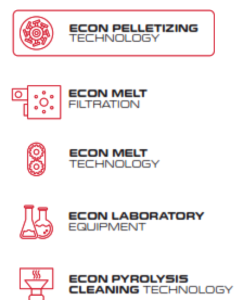 Why ECON:
Push-button start – automatic, fast and safe
The "freezing" of die holes can be prevented due to the thermal insulation technology
Servo driven cutter hub control offers accuracy and machine safety
Consistent pellet quality
Integrated diverter valve controls resin in bypass
No water bypass required, no water on floor
Streamlined die provides no pressure build up, and minimum melt loss
Compact unit, minimal space requirements, simple handling
Pelletizer moves and functions as a complete unit
Minimal energy consumption
Low labor and maintenance costs
Polymer Diverter Valve:
All thermoplastic materials can be processed in all sizes (micro, mini, standard)
Highest process stability
High-quality pellets
Tailor-made solutions for your individual requirements
Compact unit, minimal space requirements, simple handling
Only 1 operator is needed
Diverter valve for easy handling (included in the standard scope of supply)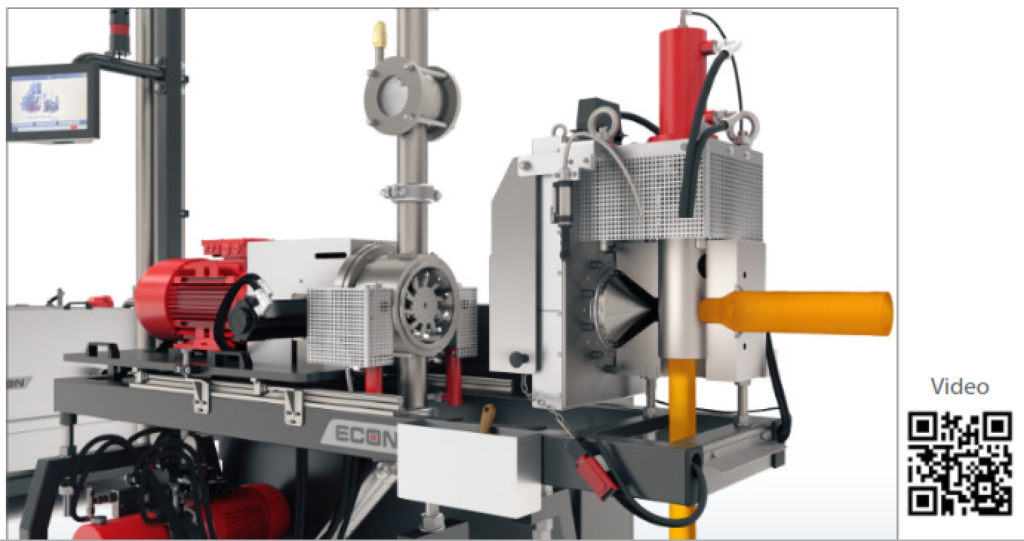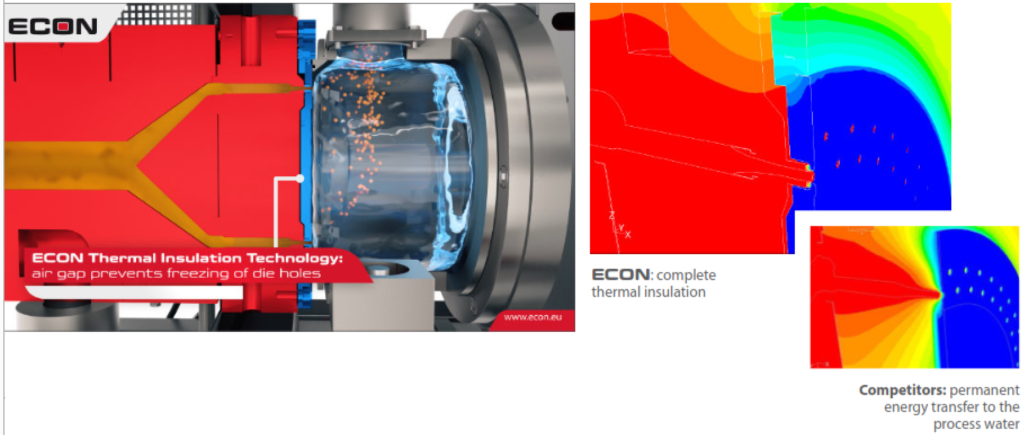 Die Plate Unit:
No "freezing" of die holes – provides constant high pellet quality
Thermally insulated die plate – provides constant temperature through the carrier body & no overheating of the melt
Reduced energy demand
Die plate features easy handling, easy cleaning and quick change system
Cutting Chamber:
Hydraulic locking system
Easy to dismantle
Easy to clean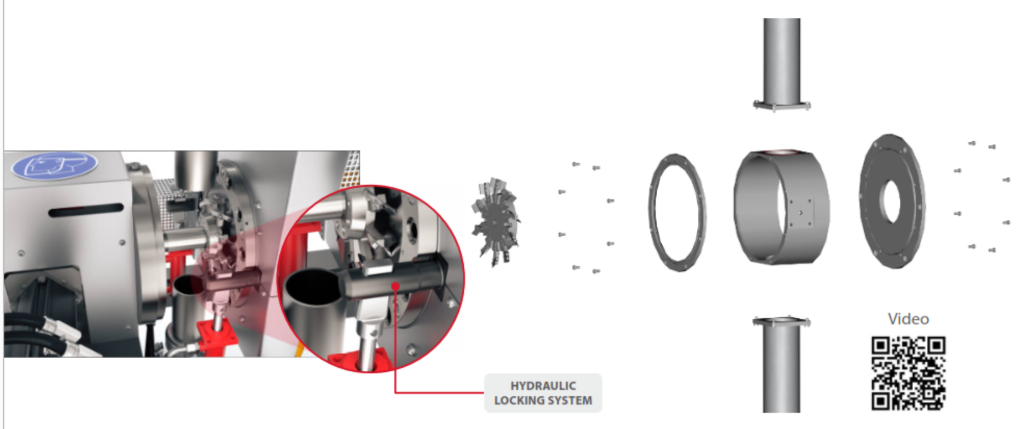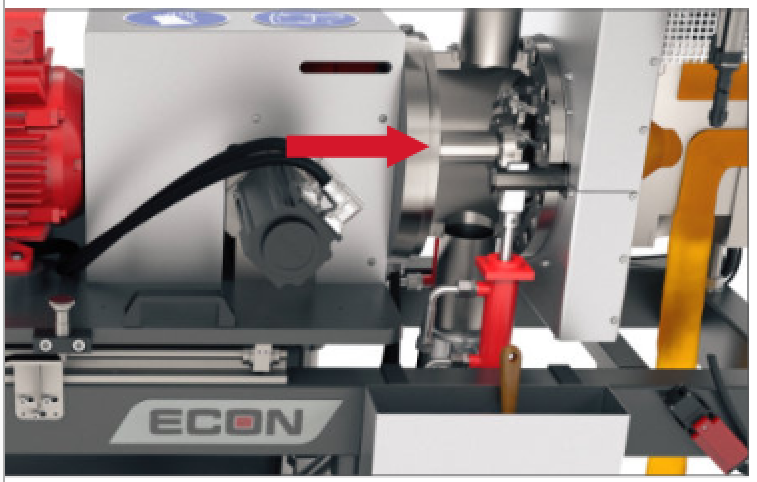 Automatic Knife Adjustment Servo Drive:
The servo motor controls the position and force of the knife carrier against the die plate.  The hydraulic locking system ensures proper adjustment and safe operation.
Accurate knife adjustments by servo drive
Automatic start sequence – fast and safe
Online process monitoring of key process parameters for reproducible production processes
Knives can be regrinded during production process
Water Treatment And Centrifugal Dryer:
Econ Water Treatment, EWT
Pre-dewatering unit for best drying performance
Clean process water will be recirculated – minimal water consumption
Process water circle are separated to increase the lifetime of the heat exchanger
Permanent control of the process water temperature
Econ Centrifugal Dryer, ECD

Easy access for cleaning and inspection
Highly wear resistant option for aggressive application
Screen and rotor suitable for micro pellets
rotor plates bolted for easy changing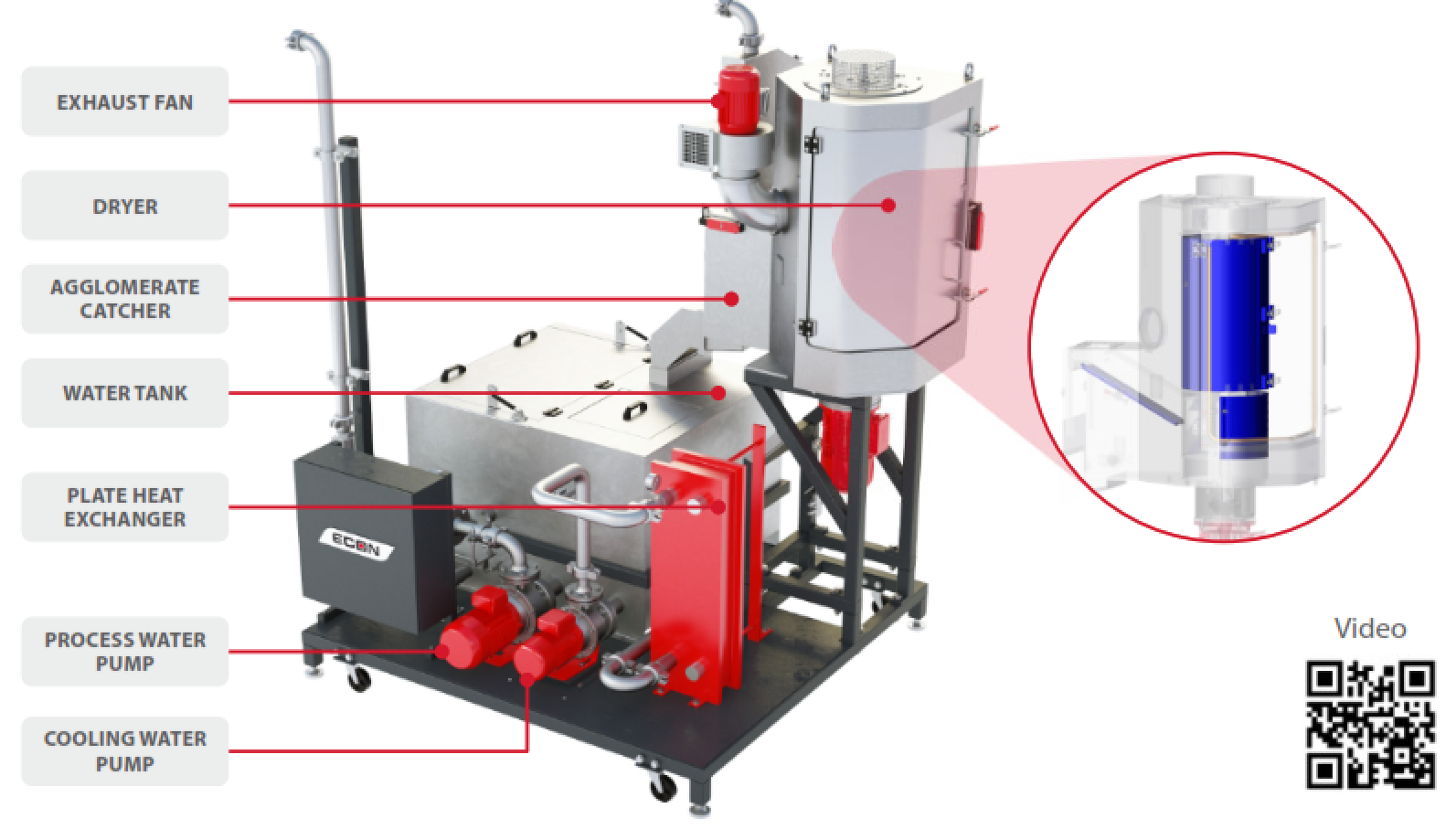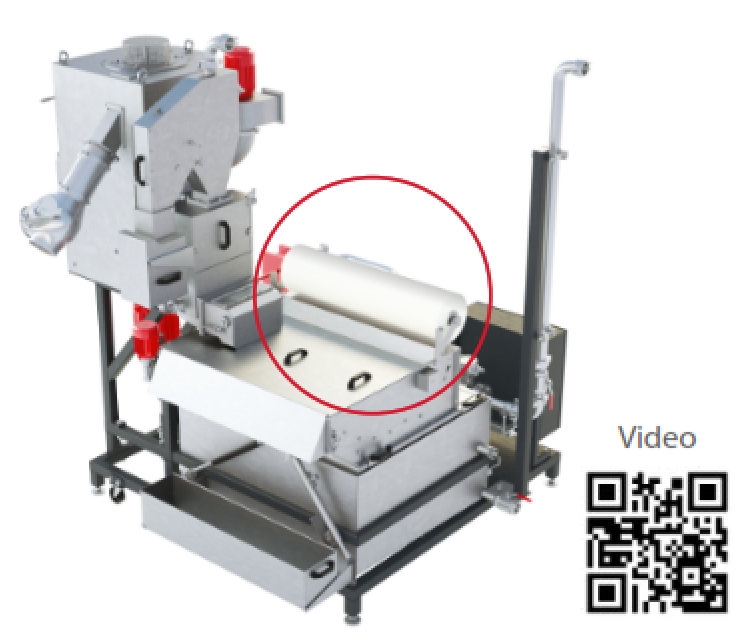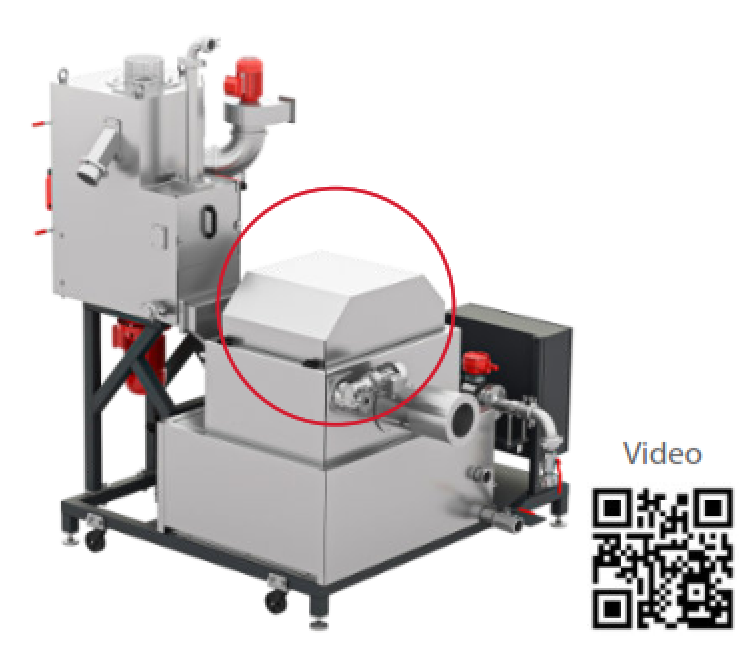 EWT Optional Equipment:
Econ Water Filtration Advanced (EWFA)

Continuous filtration of the process water using a band filter
Econ Water Filtration Professional (EWFP)

Self-cleaning
maintenance free
full automatic operation no manpower required
low operation costs and no additional process water
high grade of filtration (less than 120 microns)
"Their experience and knowledge, speed of delivery and quality of service we encountered throughout our project was simply world class. There is incredible peace of mind knowing that you're in the hands of professionals. Their work is of such outstanding quality, they are clearly experts in their field."
Larry
We're always interested in new projects, big or small. Please don't hesitate to get in touch with us regarding your project.

If you want to contact us about any issue please call 909.979.7813 or send us an e-mail. If you would like to submit a proposal for consideration simply submit a quote.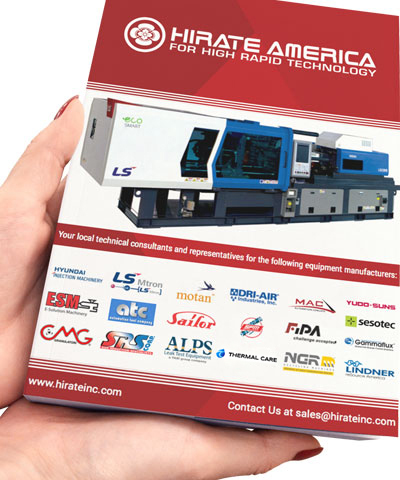 Hirate America Line Card
Download our line card to see what products we can offer you.