5 Reasons Why You Need A SRS Bi-Cutter Screenless Granulator

Size Reduction Specialists (SRS Corp.) is the world's only provider of bi-cutter screenless granulators that generate premium, uniform granules with it's patented two-shaft design.   These uniform granules are free of longs, dust or powder and will enhance your molding process and able to process materials like TPE's and glass-filled resins.
1. Are you producing parts with majority of the shot being the runner?
In most cases, runners are a waste of material that most molders throw away so why not try to recapture the material loss and put that back into your process, which will yield a cost savings over time.
2. Are you wanting high quality regrind?
The SRS bi-cutter screenless granulator is able to provide clean finely cut material ready for reprocessing.  One of our customers stated that they were only able to put back only 23% of regrind from their runners back into their process from a conventional granulator to make good parts, but when they switched to the SRS unit they were able to reuse 100% of the runner regrind to make good quality parts.  This lead to significant savings of putting back virgin material over time.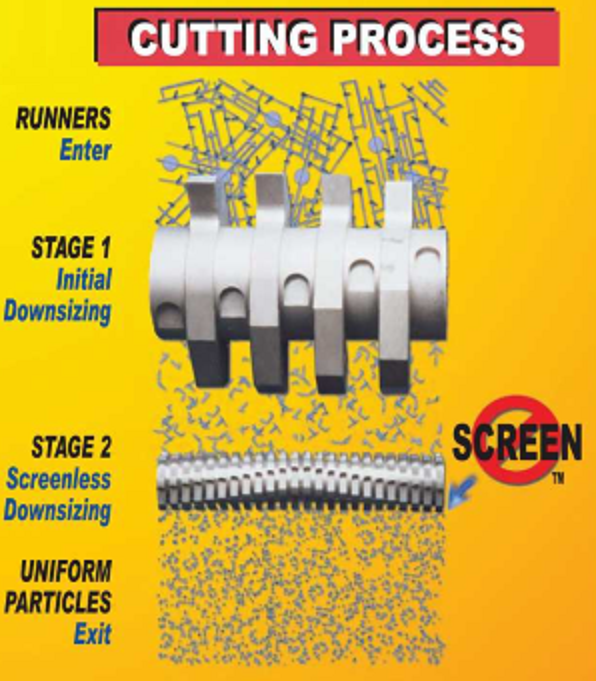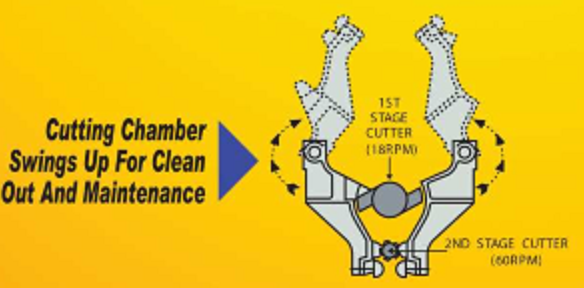 The first stage cutters rotate at a low rotation speed of 15~18 rpm.
A special "S" shaped breaking blade in the first stage cuts the sprues/runners into smaller pieces, allowing the pieces to drop into the second stage cutting teeth.
The second stage rotary and stationary cutters cut into uniform size at 45~60 rpm. The uniform particles then fall into the collector bin at the base of the Bi-Cutter for removal.
3. Do you want the quietest granulator on the market?
Typically "quiet" and "granulators" don't belong in the same sentence.  With the SRS screenless granulator, you can definitely have a normal conversation standing next to the machine because of it's slow rotating cutters (18 RPM for the 1st stage and 60 RPM for the 2nd stage) compared to conventional granulators rotating at 200-250 RPM.
4. Do you want a low power consumption granulator?
Granulators are energy hogs due to their high speed high horsepower motors that need to drive the cutter.  As mentioned above since the cutter shafts rotate at a much lower speed, less horsepower motor is required 0.5HP ~ 2 HP motor compared to conventional granulators.
5. Do you want less down time and no meltdowns?
The tilt back hopper design makes it extremely easy for clean out since you get access to the cutting chambers.  Conventional granulators running at higher speeds can cause a melt down and cause back up in the hopper or pan.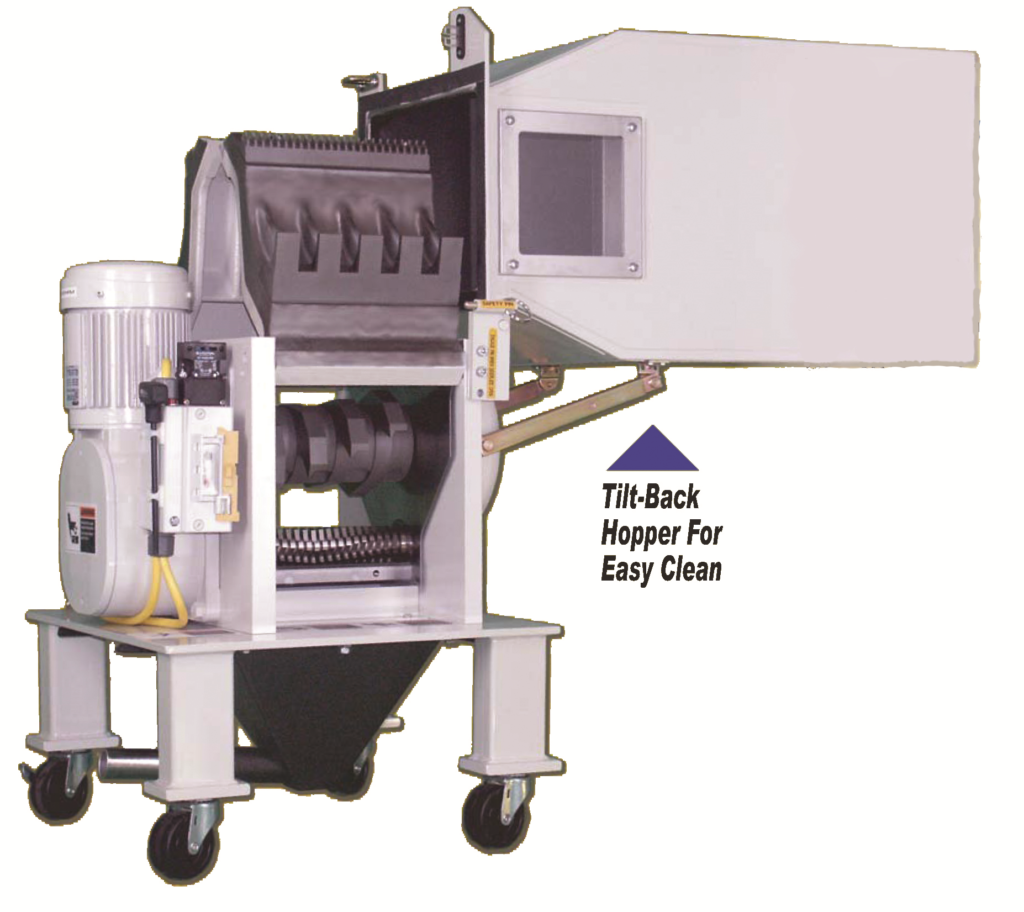 Summary
The uniquely designed two-stage Bi-Cutter screenless granulator produces excellent quality granules without the use of a sizing screen.
A small, compact footprint allows the Bi-Cutter to be used press-side.
Low RPM and horsepower allow the Bi-Cutter to be a low maintenance and low energy-consuming unit.
The quiet, dependable Bi-Cutter cuts sprues/ runners into uniformly sized granules.
The Bi-Cutter produces premium quality granules with no dust and guaranteed no longs.
SRS Screenless Granulator continuously improves and innovates their products to be one of the quietest, cleanest most efficient bi-cutter screenless granulators for the injection molding and the plastics industry.
If you have any questions regarding SRS screenless granulators or any plastic process equipment, please contact any of the Hirate America team members to provide a solution tailored to your requirements.