At the 2018 Plastec West show held at the Anaheim Convention Center, Hirate America, Inc. introduced the new Motan Luxor E A and Luxor EM A compact dryer with integrated conveying. This dryer is suitable for press-side drying of plastic resins for injection molding machines. Motan offers three sizes of drying bins – 60 liter, 100 liter and 150 liter.
Both the Luxor E A and Luxor EM A dryers with optional ETA plus energy saving technology are specifically designed to supply consistently low dew-point air to one drying bin, while reducing energy consumption. The Luxor E A dryer is designed for use with existing conveying systems or hopper loaders. Whereas the Luxor EM A offers a machine dedicated solution with integrated dry air conveying for up to two processing machines and the drying bin. As stated above there are three sizes with drying bin capacities of 60, 100 and 150 liters.
The LUXORnet controls utilize modern, flexible BUS-technology. As standard, the color touch control manages the dry air generator, one drying bin and with the EM version, material conveying to one drying bin and two processing machines.
The integration of dry air conveying, line purging and material proportioning provides maximum flexibility and productivity.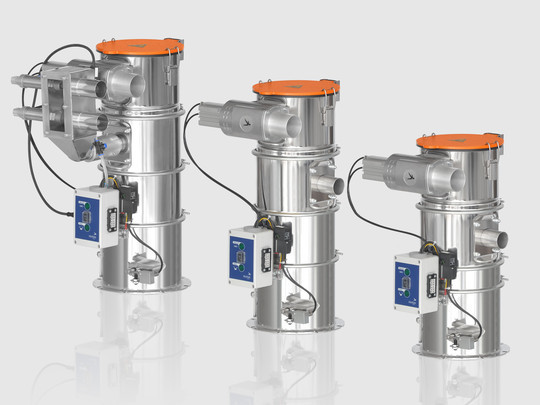 The METRO G system loaders are used to convey the plastic granulate quickly and cleanly to the processing machine or drying bin. Material is delivered exactly when needed, keeping machines running and avoiding costly downtime. Material wastage is eliminated and the work-space is kept clean and safe.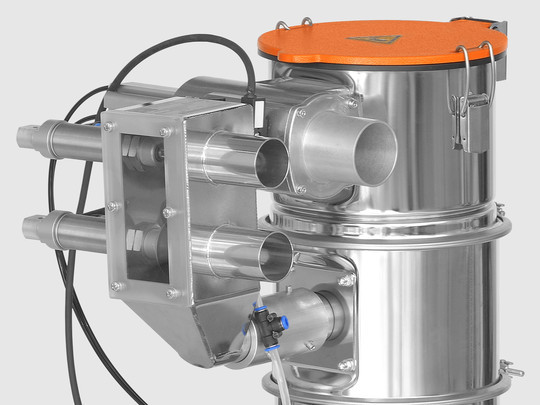 As an option electro-polished stainless steel METROMIX proportioning valve is attached to a METRO G material loader. You can easily adjust the percentage and number of material layers per conveying cycle at the dryer control. A large transparent access panel gives you easy access for cleaning.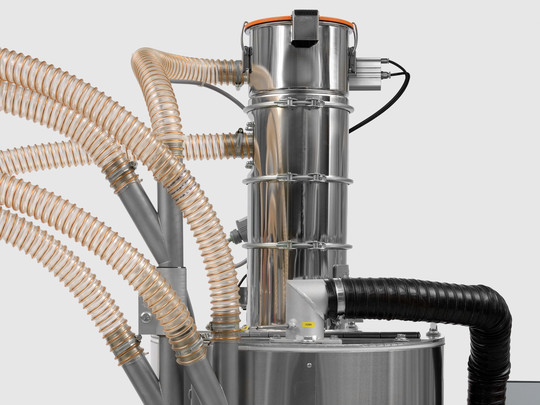 For easy setup, pre-configured material feed line sets are available for one or two machines. The option of stainless steel vacuum and conveying pipework at the back of the drying bin, enables a simple and effective connection to the processing machines.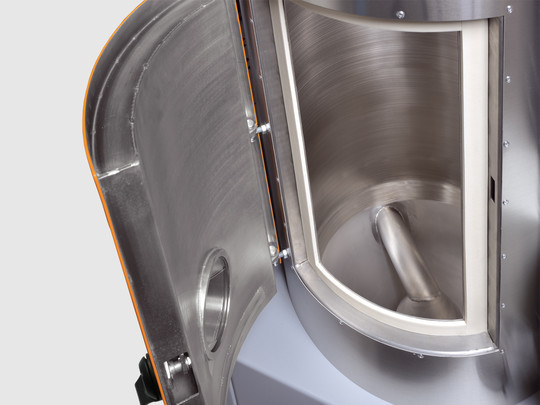 All Motan LUXORBINs are made of stainless steel and are completely insulated including the diffuser cone. The bins are mounted on solid frames and have a control box mounted at the front of the bin for optimum accessibility. The long-life solid state relays guarantee precise and reliable temperature control that does not damage thermally-sensitive materials.
The larger 100 and 150 liter drying bins are equipped with especially large clean-out doors fitted with a sight glass and easy-to-open quick release handles. They fit the shape of the bin in order to optimize material flow and simplify cleaning. In addition, they have a split hinged lid for easy access from above.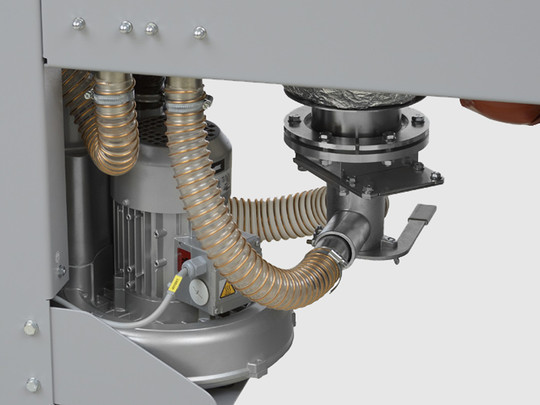 Perfect for moderate distance conveying applications, nothing beats the simplicity and reliability of a side-channel vacuum blower. The compact design allows the pump to be installed under the drying bin.
Dry air conveying is essential for hygroscopic materials. Conveying to the processing machine is carried out in a closed loop using dry, warm air. This maintains material temperature and eliminates re-absorption of moisture. As an option the material feed lines can be purged after every conveying cycle.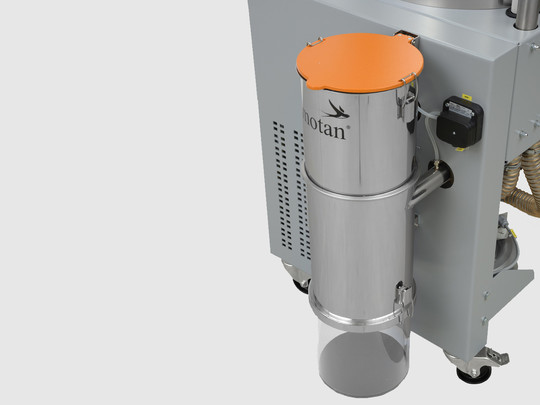 The cyclone dust filter offers you efficient filtering for small to medium throughput conveying. The cyclone separates the dust and a transparent dust collection bin with quick release clips makes for the quick and easy removal of fines.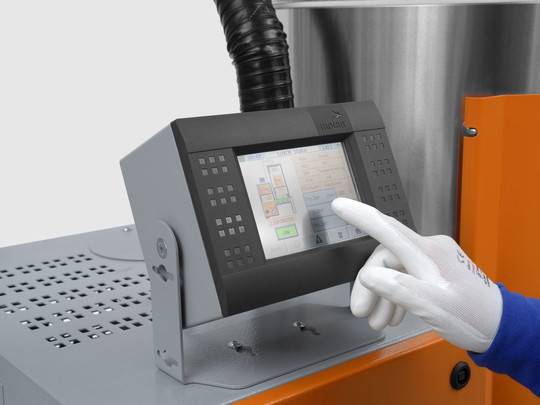 The LUXORnet EM control offers user-friendly operation via a color graphic display with touch screen. The control incorporates comprehensive functions for operation and process control, recipe management, reporting for quality assurance, as well as enhanced service functions and trend charts. ETA plus airflow control with temperature adaptation is available as an option.
The LUXORnet control utilizes modern, flexible BUS technology. As standard, the control manages the dry air generator, one drying bin, as well as up to three material loaders.
LUXORnet technology stands out due to its modern, Ethernet-based open network architecture enabling you to connect LUXOR EM A dryers with a central WEBpanel this allows you to control all functions remotely and provides an overview of the entire production.
ETA plus technology
Optional ETA plus technology stands for innovative and energy-efficient drying technology which takes two individual factors into consideration. 1.) The process air-flow control adapts automatically the mass flow of air to the amount of material being dried as well as to seasonal and time-of-day related fluctuations. 2.) Once the mass air-flow has been reduced to its minimum value, the drying temperature adapts automatically to the amount of material being dried. This guarantees very gentle drying, especially when there is a large drop in material throughput rates.
Altogether, the combination of air flow control and temperature reduction offers the highest possible energy savings. Compared with conventional drying systems, energy savings of up to 64% are possible with ETA plus technology. Both functions can be either enabled or disabled dependent on your process requirements.
Having an extremely well engineering and reliable machinery for the plastics industry is a must these days and Hirate America partners with Motan, a German based company (one of the most well-known respected in the industry).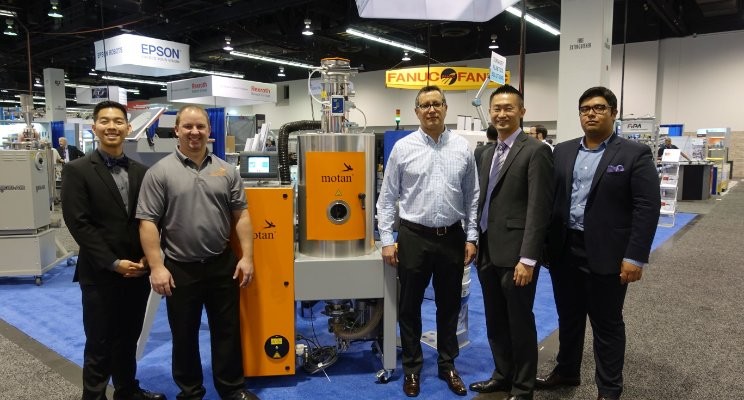 Please contact us if you have any projects you'd like to discuss with us.