1,000th Plastics Recycling System: A New Milestone for NGR
For more than 15 years the globally known SIGMA Plastics Group has put its trust in recycling machines from Next Generation Recycling (NGR), the plastics recycling machine manufacturer from Upper Austria. In December, NGR's machine number 1,000 was delivered to a Sigma plant New Jersey.
Founded in 1996, NGR is an internationally operating company that specializes in manufacturing plastic recycling machines. From its headquarters in Feldkirchen/Donau, Austria, the company has expanded its global reach and now has several customer centers in the US and Asia. During the past two decades, more than 1,000 machines have rolled off its assembly lines, including over 100 machines this year. And NGR marked this milestone together with its valued customer, the SIGMA Plastics Group.
SIGMA is the largest privately owned film extrusion company in North America, with more than 5,000 employees and an annual processing volume of over two billion pounds. Its product range includes packaging film, stretch film, merchandise bags, garbage bags and garment bags. In December, the 1,000th recycling machine produced by NGR was delivered to SIGMA Group – and with it NGR celebrated a major milestone.
Efficiency and service excellence
SIGMA Group currently has over 40 NGR recycling machines in use. When a company of this size forges such a steady business relationship with a supplier, clearly there are good reasons. Mr. Alfred Teo, CEO of SIGMA, explains: "We count on solutions from NGR because each system efficiently recycles all of our plastic waste and because we can rely on their excellent service. The NGR support team works actively with all of our plants to ensure that our machines are running smoothly."
Many of our customers have had a great experiences with their NGR machines with little issues, they are workhorses.  The S:GRAN is a patented technology and has an integrated shredder/extruder combination.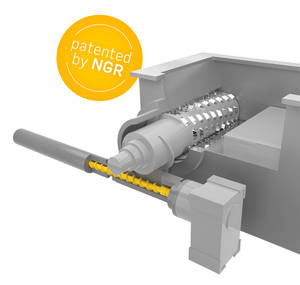 S:GRAN high output range 500-1980 lbs/h (LDPE)
ONE-STEP technology
* In a single process step, the slow-turning shredder blades grind up the plastic waste and the shredded material is then fed continuously to the extruder.
Process bulky plastic scrap including purgings
* Large, thick or bulky waste can be processed without pre-shredding as long as pieces fit into the hopper opening.
One-button automatic On/Off control
* Convenient start-up and shut-down
* Restart after unplanned shutdown in less than two minutes with full hopper and full extruder
* The control system provides for smooth start-up of equipment components 
DUMP and RUN operation
* The material level in the chute is constantly measured and the feed is regulated accordingly
* Conveyor can be loaded intermittently – the rest is handled by the NGR control unit
All of our customers have decreased waste and significantly increased efficiencies and savings within 1~2 years.  Hirate America is partnered with Next Generation Recycling (NGR). 
If you have a project that you would like to discuss, feel free to contact us below to schedule a free consultation.